2022 is a special year for us at Thema as it is the 15th anniversary of our company.
After many years of looking far and wide in the wake of incredible growth, this is an opportunity to pause for a moment, look back and retrace the steps that, through many accomplishments, brought us here.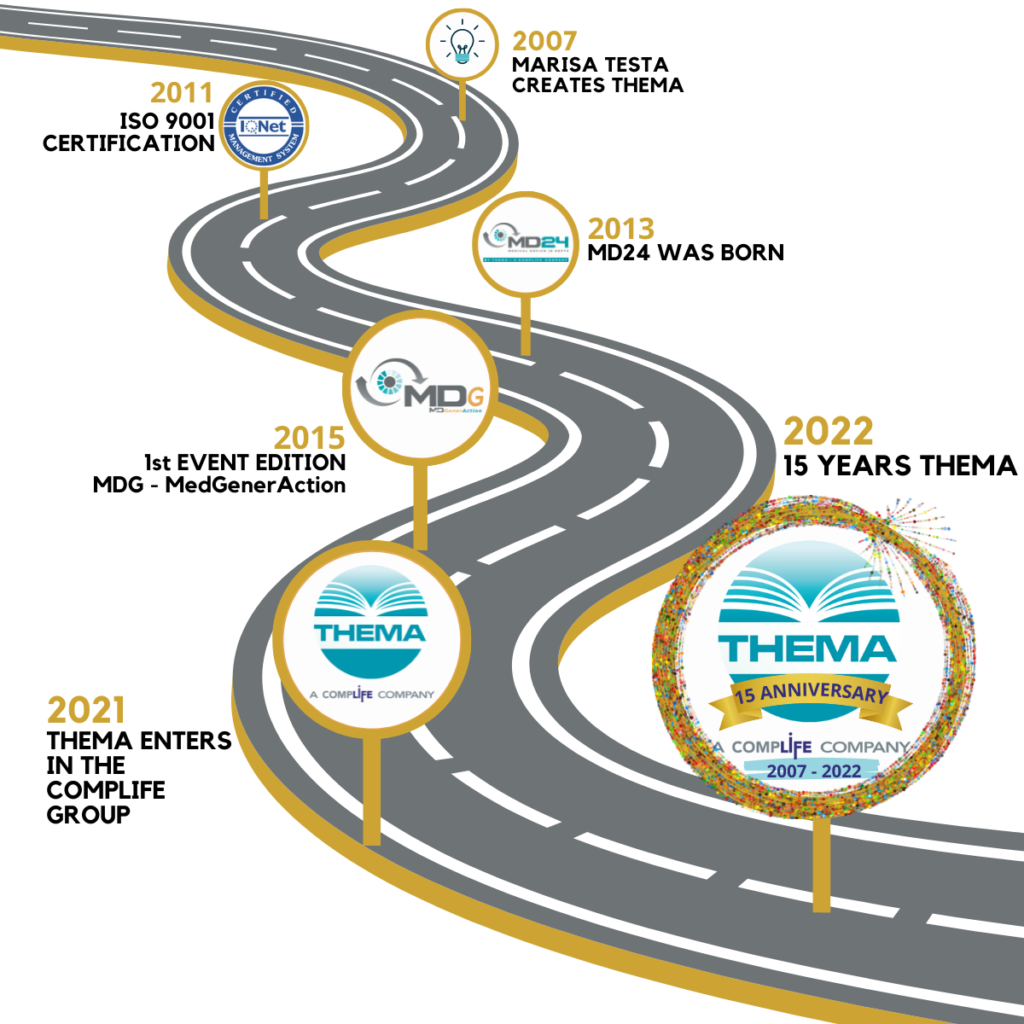 We are pleased to share with you our satisfactions, because it is first and foremost thanks to the enthusiasm and work of all our customers that Thema is what it is today.
Since 2007 – the year Thema was founded – the company has achieved some important successes, such as winning two business awards, obtaining ISO 9001 and ISO 13485 certifications, creating the MD24 brand to provide training services for Quality & Regulatory professionals and the MDG – MedGenerAction event, a real annual reference point for companies involved in regulatory activities applied to Medical Devices.
Another very important milestone was the acquisition of Thema s.r.l. by the CompLife Italia Group in April 2021, because it has enabled our company to consolidate its position in its sector and open up new opportunities by becoming part of a company of international importance.
Becoming part of the CompLife Group thus responds to THEMA's desire to further expand its horizons in the Health&Personal Care sector, in line with its mission: Let's take care beyond the boundaries.
In 15 years, important goals have been achieved
These first 15 years were full of choices, changes, constant commitment which led us to realize our great dreams and projects, on a road that never ceases to stimulate us every day. And that is why we want to see this anniversary as a first symbolic step on a path that sees other great goals ahead.
Relive the first 15 years of Thema with us.
We would like to address a special thank you to all the to the client companies who have believed in us over the years and made us part of their successes.
Also, thank you our partners, co-workers, and employees who have contributed to make this 15th anniversary special.
Now, we look forward with enthusiasm to the future and to continuous improvement in order to keep offering new opportunities and excellent services.
We are there! Let's take care beyond the boundaries.